Terry Peak Deals
Passholders may enjoy a FREE Small Fountain Drink everyday with a lunch purchase.
The Mountain Retail Shop discounts will be announced throughout the season.
Partner Deals
These benefits are exclusively for Terry Peak Season Passholders. Offers from the following businesses are available to valid season passholders only. To receive the discounts and special rates listed below, pass holders must present their valid '19-'20 Season Pass at the time of purchase and are subject to the merchants discretion.
Akela Spa of Deadwood – 11842 US Hwy 14A, Deadwood, 605-578-1180
Reconnect with yourself at the Black Hills only destination day spa.
Half Price use of Akela Garden with service.
Exp. 5/1/21
Aspire Boutique – 170 West Main St, Lead, 605-591-0600
A place for the mystical characters of the Black Hills.  Discover jewelry, tapestries, incense, local art and more.
10% off one "Gnomad" product each visit.
Exp. 9/1/21
Barefoot Resort – 21111 Barefoot Loop, Lead SD,  605-584-1577 / 1-800-424-0225
Located across from Terry Peak, offering fully furnished one, two & three bedroom condominiums.  A swimming pool, three hot tubs, and an outdoor game court makes for a fun filled vacation!
10% Off Friday & Saturday Reservations, 15% Off Sunday-Thursday Reservations, Holidays Excluded plus some restrictions apply.  Exp. October 31, 2021
Big Thunder Gold Mine – Keystone, SD  57751, 605-666-4847
Come to Keystone for Big Thunder Mine tours, gold panning, and a golden gift shop.
20% off tours.  Exp. 10-21.
Blackstone Lodge & Hangar Pub – 395 Glendale Dr, Lead, SD  57754, 605-584-2000
Blackstone Lodge & Suites and the Hanger 7 Pub.  Hotel, hot tub under the stars, complementary breakfast and shuttle.
10% off room reservations.  Exp. 4-1-21.
Black Hills Regional Eye Institiute – 2800 3rd St, Rapid City, SD  605-718-3937
Eye Institute specializing in disease and surgery of the eye.
$1,100 Off iLAsik Surgery.  Exp. May 1, 2021
Comfort Inn & Suites – 225 Cliff Street, Deadwood, SD  57732, 605-578-7550
Bar and eatery located in Comfort Inn & Suites in Deadwood.
25% off meal and $2 off taps at Phat Owl Bar & Eatery.  Exp. 3-31-21.
Deadwood Mountain Grand/Santana's Sports Bar & Grill – 1906 Deadwood Mountain Drive, Deadwood, 605-559-0386
Deadwood Mountain Grand features a trendy new restaurant and an energetic sports bar with live entertainment every weekend!
$2 OFF pounders with presentation of your current Terry Peak Season Pass.    Exp. 4/1/21
Deadwood Mountain Grand/Six String Restaurant – 1906 Deadwood Mountain Drive, Deadwood, 605-559-0386
At the Six String restaurant enjoy a rock-n-roll atmosphere in a casual setting, featuring exceptional food, from burgers to wild game!
10%  OFF your bill when you present your current Terry Peak Season Pass.    Exp. 4/1/21
Deadwood Social Club on Top of the Old Style Saloon #10 – 657 Main Street, Deadwood, 57732, 605-578-3346
Italian Steak House with an award winning wine list. Home of the Top of the Ten Martini Bar.
10% Off an entree at the Deadwood Social Club.  Exp. End of the '20-'21 Season
Detroit Mountain – 29409 170th St, Detroit Lakes, MN, 56502, 218-844-7669
Located in Northeastern MN, Detroit Mountain offers Alpine Skiing and Snowboarding, featuring a progressive Terrain Park.  Plus an extensive Nordic Ski Trail system and tubing park.  Enjoy the following season pass reciprocal agreement by presenting your Terry Peak Season Pass.
Receive 50% off your full priced daily lift ticket.  *ADVANCE RESERVATIONS REQUIRED. IN ORDER TO RECEIVE THIS OFFER, PASSHOLDER MUST CONTACT DETROIT MOUNTAIN 72 HOURS IN ADVANCE OF ANTICIPATED VISIT & PRESENT THEIR SEASON PASS AT THE TIME OF ARRIVAL.
Exp. End of the 2020-21 ski season.
Edge Sports – 11380 Hwy. 14, Lead, 605-722-SKIS (7547)
Skis, snowboards, apparel, rental, and full service for your winter fun!  NOW OFFERING SEASONAL RENTAL LEASES!
$5 off service to your equipment,  Exp. 4/1/2021
Great Bear Park – 5901 E Rice Street, Sioux Falls, 605-367-4309
Terry Peak Season Pass Holders will receive $10 off a daily lift ticket at Great Bear Park after February 1st, 2020 through the end of the season.
Great Bear Park Season Pass holders will receive $10 off an all area lift ticket at Terry Peak beginning March 1, 2021 through the end of the season. (No other discounts apply)
Greenfield Pub – 314 W Main Street, Lead, SD, 605-717-2498
Pool, Darts, Karaoke, Full Bar & more. The Best Night In Lead!
.50 cents off every beverage with a Terry Peak Season Pass.   Exp. End of the '20-'21 season.
High Mountain Outfitters –  313 W Jackson Blvd, Spearfish, 605-717-2982
Quality Clothing and gear for the mountain sports enthusiasts.  Outdoor apparel, foot ware, gear, backpacks, hammocks, kayaks and more.
* 15% Off all regularly priced merchandise.  Exp. 4/1/2021
Hogadon Basin Ski Area -2500 Hogadon Rd, Casper, WY  82601, 1 (307) 235-8499
Hogadon Basin Ski Area is a ski resort located 11 miles south of Casper, Wyoming on Casper Mountain.
* Receive 1/2 off a full day all area lift ticket for adults and juniors.  Exp. end of 2020-2021 season
Java Joint -145 Glendale Dr, Lead, SD, 57754
All coffee blends made in house, homemade milkshakes & old fashioned malts, awesome grub, espresso and just good vibes!
Buy one item get one half price.   Exp. end of 2020-21 season
Lookout Pass – PO Box 108, Wallace, ID  83873, 208-744-1301
At Lookout Pass, you can Ski and Snowboard Montana one run and Idaho the next.  It's located right on the Montana – Idaho boarder, just off Interstate 90 only a few minutes from Wallace Idaho.  With an annual snowfall of 400 inches, this natural snow belt can deliver exceptional powder riding.
Show your Terry Peak Season Pass and receive 50% off your day ticket through the 2020-2021 season. (Not valid during holiday periods 12/18/2020 to 1/3/2021; 1/16-18/2021, & 2/13 -15/2021.) Limit to only three days of use each season.
Marta's DEADWOOD doghouse – 20791 76 Ranch Road, Deadwood, 605-641-0857
Life's better at the Doghouse!  Offering supervised doggy daycare and boarding in Deadwood.
10 Day Punch card for Doggy Daycare for just $150
Monarch Mountain – 23715 W. Hwy 50, Salida, CO  81201, 719-530-5000
Monarch Mountain is an independent ski area with high elevations, abundant all-natural snowfall and excellent terrain for all levels. Our local town of Salida offers, shopping, dinning, drinking, lodging, and year-round mountain biking.
· Show your Terry Peak Season Pass and receive a Migration Ticket (a day lift pass) Monday – Friday (excluding 12-26-20 to 1-3-21) for $59. Exp. Close of the 2020-2021 season.
Mont du Lac Resort – 3125 S Mont du Lac Dr, Superior, WI 54880, 888-331-8651
Welcome to Mont du Lac, northern Wisconsin's premiere family getaway, where memories are made, just 15-minutes south of Duluth.
Receive 50% off your Full Priced daily lift ticket . Exp. End of the 2020-21 ski season.
Peak Sports – 1401 West Omaha Street, Rapid City, 605-341-5445
Your full service retail ski shop.  Offering all the newest gear in Volkl, K2, Salomon, Tecnica, Blizzard, and more!
* Watch for our FREE Terry Peak On-slope Demo schedule.
Receive 10% off regular priced merchandise.  Exp. 4/15/2021
The Lodge at Deadwood – 100 Pine Crest Lane, Deadwood, 605-584-4800
Experience luxury at it's finest at the Lodge at Deadwood.
10% Off Bar Room Rate  Exp. 5/15/2021
Roundhouse Liquors – 133 Glendale, Lead, 605-584-3300
Check out our huge selection of local, regional and national wine plus imported and domestic beers, and of course an endless selection of liquor.
10% off purchase daily between 4:00 – 6:00 pm, with a Terry Peak Season Pass.   Good from the Opening Day through the end of the 2020-2021 Ski Season
Sanford Lab Homestake Visitor Center – 106 W Main, Lead, SD  57754  605-584-3110
Museum describing the 125 year old Homestake Mine and Sanford Lab.  Free Exhibit, enjoy a day on the Patio with amazing views.  Learn the history and future of  Science of Lead. Great Retail Store.
10% Off Gift Shop.  Exp. 4/30/21
Sparrow & Pine Lodge – 21157 Last Chance Trail, Lead, 605-484-4237
A cozy cabin that sleeps 8, with a hot tub, located just two minutes from Terry Peak Ski Area.
15% Off nightly rate. No blackout dates. Email sparroeandpiine@gmail.com with your desired date to reserve your discounted stay.  Exp. 10-31-2020
Spearfish Canyon Lodge – 10619 Roughneck Falls Rd, Lead, 605-584-3435
Located in Spearfish Canyon, beautiful suites, outdoor hot tubs, snowmobile rentals and much more!
15% Off Nightly Rate  Exp. 10/31/2021
Spearfish Creek Fly Shop – 313 W Jackson Blvd, Spearfish, 605-717-2982
A full service fly fishing shop, guiding and instruction.
15% Off Regularly priced merchandise  Exp. 4/1/2021
Stress Relief Massage Center – 802 Main Street, Deadwood, 605-722-1396
Deadwood's leading massage center.
15% off a one hour or more service.   Exp. 4/30/2021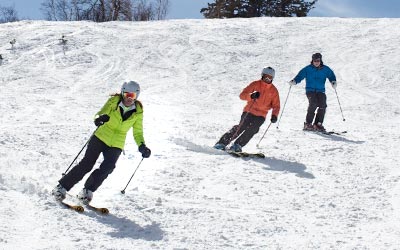 Season Passes
Purchase a season pass to take advantage of these deals and enjoy unlimited skiing and snowboarding.
Learn More