Dustin Tucker/ Nate Wortman/ Lacy Nelson at The Jammin' The Peak Music Series with Party Host Fernson Brewing Company
Opens Search
January 13, 2020
Location:
Dark Horse at Nevada Gulch Lodge & Base of Kussy Express
Time:
2:00AM - 6:00PM MST
Jammin' The Peak Music Series at Stewart Lodge ~ party host, Fernson Brewing Company presents entertainment from each of these fine musicians  Dustin Tucker, Nate Wortman & Lacy Nelson with the Annual Lunnar Run 
Jammin' The Peak Music Series will offer local music entertainment, with door prizes and plenty of âpre' ski fun!  This season we kick off the series on Saturday, January 4, 2020 at the Stewart Lodge Bar in the Stewart Lodge with the final event at the Dark Horse on February 22, 2020.  On each of the series dates, music will rock the house from 2:00 to 6:00 and door prizes from the weekly sponsor will be drawn at 5:00.  During each series the six final prizes that will be given away will be a Terry Peak glass.  Each week six lucky winners that take home the coveted Terry Peak glass and become one of 48 finalists will go into the final drawing on February 22, 2020.  On February 22, 2020, the first finalist to be drawn will have their choice of two grand prizes; a pair of skis from Peak Sports of Rapid City or the Alaskan Snowboard from Quality Beverage.  To enter you must be 21, and you must be present to win.  Only ONE entry each week will be allowed.  Only one Grand Prize will be allowed per person.
This music series event will be accompanied by the Annual Lunar Run.  The Lunar Run will begin soon after the music ends.
The Lunar Run has become an annual tradition at Terry Peak.  It is complementary to the first 100 registered with a current season pass, or a January 11, 2020 day ticket, and employees. Registration will begin at 4:30 in the Nevada Gulch Lodge, everyone must sign a Liability Release Form, and those 17 and under must have a legal guardian sign their Liability Release Form. Ages 12 and under must be accompanied by an adult.  We will load the Kussy Express Chairlift at approximately 7:00 pm.   Once all participants arrive at the top, flares will be provided to those who want one, and an attempt to make a controlled serpentine line down Kussy will begin.
We suggest you wear gear that you are not concerned about comprising, because Terry Peak is not responsible for any burned garments.  If you chose to use a flare please understand you do so at your own risk.  Another suggestion would be to bring your own head lamp.
Participation Rules: Must be 21 years of ages to participate in the bar activity, must be present to win and only ONE entry per person per event.  
If by chance you win a door prize and your name is called a second time, you will forfeit the original door prize, the second door prize, and your name will not be put back in the finalist drawing to win a Terry Peak glass.  Only one Grand Prize will be allowed per person. 
Thank you to all of our fine sponsors: Akela Spa of Deadwood, Alaskan Brewery, Alecia Hoffman of C21 Spearfish Realty, Aspire Boutique in Lead, Blackstone Inn in Lead, Burnouts Pizza in Lead, Century 21 Associated Realty, Inc. of Deadwood, Dakine, Deadwood Mountain Grand, Homestake Opera House in Lead, KSKY-FM, Legend Suspensions in Sturgis, Miller Creek Pub at Elkhorn Ridge, Oh Gee Designs in Sturgis, Paradigm Construction, Peak Sports of Rapid City, The Pump House in Deadwood, and The Sled Haus in Lead
Featured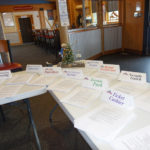 General
9:00AM - 12:00PM MST
Stewart Lodge