What to Expect
Our runs, terrain parks and recreational opportunities are top-notch. It doesn't matter if you are experienced or just beginning, Terry Peak Ski area offers a variety of runs and activities for all ages and skill levels. Three high-speed detachable quad chairlifts, one fixed grip triple and the snow carpet offer a smooth ride up the slope. Terry Peak has uncrowded slopes and million dollar views. The Stewart Lodge is warm and inviting. The Nevada Gulch Lodge is nostalgic and exciting with its famous Dark Horse Saloon. The weather can change from sunny to snowy in a matter of minutes. And the conditions always seem right for winter fun!
Things to Bring
Along with your ski and snowboard equipment you will also want to bring sunscreen, lip balm and plenty of extra clothes. Along with goggles, ski pants, a ski jacket, boots and gloves, we recommend you pack a few extra base and mid layers so you can stay dry and comfortable. Don't forget your hat, sunglasses and a camera! But most importantly, bring a pair of dry socks, then pack your spirit for adventure because Terry Peak is a thrill ride you will never forget.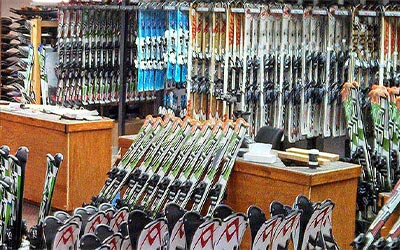 Need Equipment?
Our Stewart Lodge Rental Department offers standard and high performance ski and snowboard set-ups.
Equipment Rental